Archive for the 'Anne Marie Slater' Category
A panel discussion on returning to Creativity and Photographic Art with special guest Ian Ruhter presented by CAPIC (The Canadian Association of Image Creators) Vancouver Chapter.
We have a diverse powerhouse group that collectively represents about 100 years of photographic experience! Each member has come from different training, vastly different areas of the commercial assignment world and has pursued a different form of their artistic expression and passion.
Panelist include: Ian Ruhter, David Ellingsen, Robert Kenney, Katie Huisman and Anne-Marie Slater
Goldcorp Centre for The Arts
SFU Woodwards Campus
149 West Hastings Street
Vancouver, BC
Doors open: 7:30pm
Event: 8:00pm
$35 through Eventbrite
Tickets at the door $40 cash only.
Event posters signed by Ian (fundraiser for Art Education for youth in the Downtown East Side) will be available for a minimum $30 (cash only) donation.
www.silverandlightvancouver.com
Presenting Sponsor: CAPIC Vancouver
Sponsors: Selfdesign, Beau Photo,
Production Partners:  Met Press, Vancouver Photo Workshops, Flashpoint Rentals, Sugar Studio, Pinter Creative Studio, Seven25. Design and Typography, Big Music Productions,
Produced by: Rick Etkin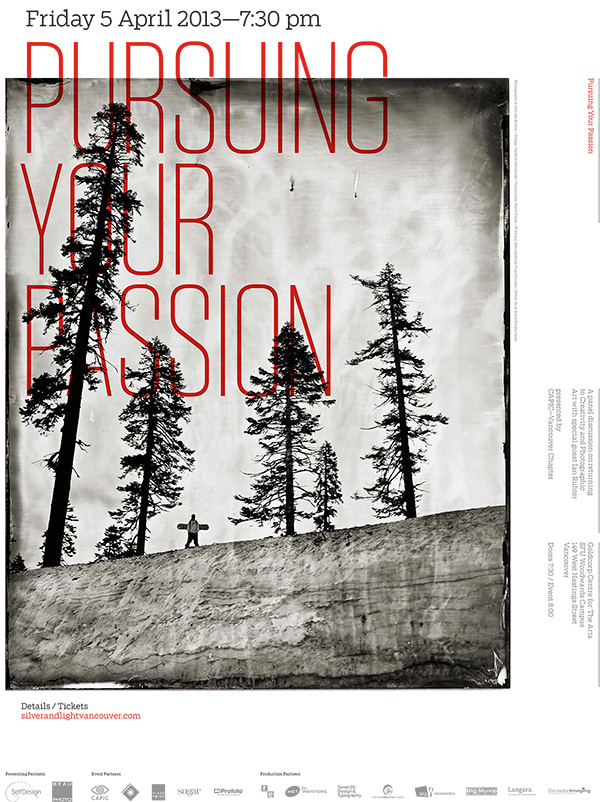 August 7
For residents of the Rice Block, ATIRA Housing, artist Anne Marie Slater brings together local women and children from low-income communities adjacent to the Soul Garden site to share their stories and recipes about comfort foods. The dinner will draw on the cultural and immigrant histories of the site by serving Sunday dinner dishes that celebrate the history of comfort foods through the European, Russian, Jewish, and Ukrainian community churches in the area, as well as participant's favorite comfort Sunday dishes.
Event Details
Event Description
Soul Gardens is a W2 community public art project that investigates the cultural history of the Downtown Eastside as told through stories of food, gardening and community.
A collaboration between five muralists and five artist researchers, the project draw heavily on individual and shared narratives within founding DTES cultural groups including the Squamish, Tsleil-Waututh, and Musqueam Nations, and African, Chinese, Japanese and European settlers.  In addition to a large public mural, Soul Gardens will create a dynamic online interface inviting individuals to share recipes, stories, photos and other information about how food has played a role in shaping their experience of Vancouver.
Muralists: Jordan Bent, Indigo, Scott Sueme, Melanie Shambach, Take5. Researchers: Wayde Compton, Lani Russwurm, Anne Marie Slater, Sid Tan and Cease Wyss. Project Coordinators: Irwin Oostindie, Lianne Payne.
Look here for further event updates on the project as they are announced, including long table dinners, recipe card collections, and public talks and workshops on cultural heritage and community history.
With support from the City of Vancouver's 125th Anniversary Grants Program and the participation of the Government of Canada. Artwork design: Jordan Ben
AHA MEDIA is very proud to help support the W2 Soul Gardens Public Art Project!
Below are photos from a recent meeting at W2 Media Cafe