Pursuing Your Passion with special guest Ian Ruhter and CAPIC Vancouver
A panel discussion on returning to Creativity and Photographic Art with special guest Ian Ruhter presented by CAPIC (The Canadian Association of Image Creators) Vancouver Chapter.
We have a diverse powerhouse group that collectively represents about 100 years of photographic experience! Each member has come from different training, vastly different areas of the commercial assignment world and has pursued a different form of their artistic expression and passion.
Panelist include: Ian Ruhter, David Ellingsen, Robert Kenney, Katie Huisman and Anne-Marie Slater
Goldcorp Centre for The Arts
SFU Woodwards Campus
149 West Hastings Street
Vancouver, BC
Doors open: 7:30pm
Event: 8:00pm
$35 through Eventbrite
Tickets at the door $40 cash only.
Event posters signed by Ian (fundraiser for Art Education for youth in the Downtown East Side) will be available for a minimum $30 (cash only) donation.
www.silverandlightvancouver.com
Presenting Sponsor: CAPIC Vancouver
Sponsors: Selfdesign, Beau Photo,
Production Partners:  Met Press, Vancouver Photo Workshops, Flashpoint Rentals, Sugar Studio, Pinter Creative Studio, Seven25. Design and Typography, Big Music Productions,
Produced by: Rick Etkin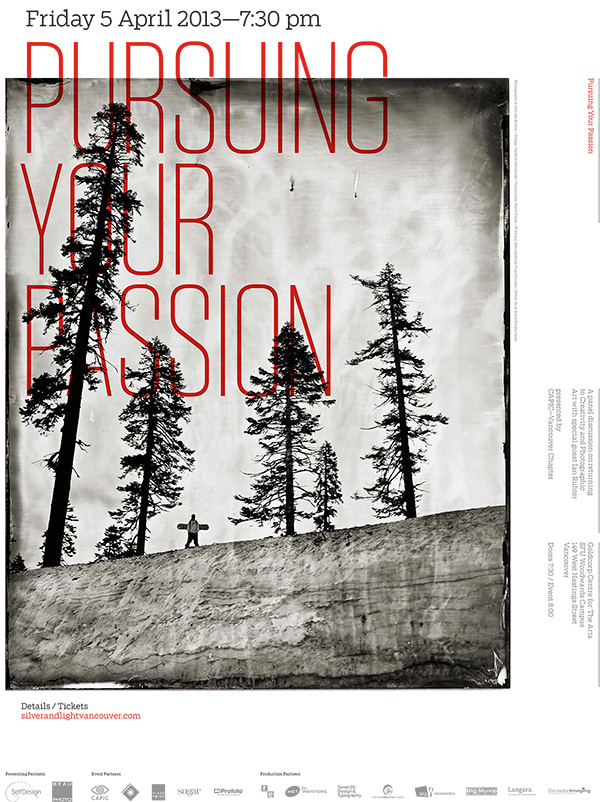 Error: Twitter did not respond. Please wait a few minutes and refresh this page.
AHA MEDIA Photos
About AHA MEDIA
AHA MEDIA Partners
Food Reviews